Nothing beats the sensation of the fresh air rushing across your body as you ride a motorcycle, making every outing a journey that seems that much more memorable. You may be considering a motorcycle for commuting or for a new hobby. You may be looking to take an amazing road trip across the country on two wheels.
With so many different types of motorcycles on the market, it can be difficult to decide which one is right for you. If you don't already have a motorcycle and aren't sure where to begin, here's a guide to the six common types of motorcycles available. When selecting your ideal bike, it is critical to consider a number of factors, including your riding style, your budget, and whether you prefer a modern or traditional bike design.
And, since motorcycle insurance is mandatory in Washington for street bikes, you should consider the cost of motorcycle insurance. The sportier the bike, the more insurance will be on it since sportier bikes attract higher risk riders. Also, the sale price of the bike will affect the rate of "full coverage" since it will cost more to repair or replace the bike.
---
1. Standard/Conventional Motorcycle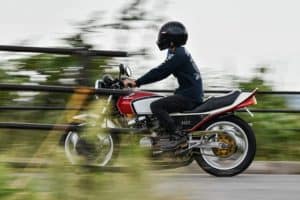 Standard motorcycles have an upright seating position with the handlebars set at a comfortable distance from the rider, allowing the rider to relax his or her arms while riding. Furthermore, they are frequently available at a lower cost than some of the other types of vehicles discussed below.
Ordinary motorcycles typically have less powerful engines than other types of motorcycles, such as sport bikes and choppers, so if horsepower is your primary concern, you may want to look at another option. A conventional motorcycle may be the best choice for your needs if you want a comfortable, dependable, and workmanlike motorcycle.
---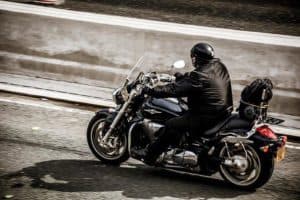 2. Cruisers
These bikes are made for long-distance commuting, and they have a lot of space for a lot of things. On a cruiser, it's easier to keep your body relaxed because the saddle is lower than the handlebars and gas tank, which makes it easier to keep your body relaxed. Because of this, they're great for highway straightaways that get a lot of attention. If you're going to drive around curves, you'll need to keep in mind that your car has a lower ground clearance and leans a lot.
People have been riding cruisers since the 1930s. People think of cruisers when they think of vintage, American-made bikes. The fact that cruisers aren't the fastest motorcycles on the market doesn't mean that they make you feel like you're going back in time.
---
3. Sport Motorcycles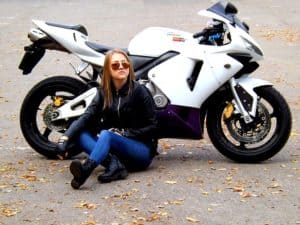 Sport motorcycles are built with the goal of achieving maximum speed, acceleration, and braking. On these bikes, instead of having the handlebars low and the footpegs in front, you lean forward. Because of the combination of a wide track and high ground clearance, higher lean angles are possible. However, it's not ideal for long-distance rides because it puts a lot of strain on your arms and wrists.
If you want a vehicle that is both fun and fast, a sport bike may be the vehicle for you. These motorcycles are quick, maneuverable, and a lot of fun. Just be sure that your riding style is appropriate for the bike's capabilities and intended use.
---
4. Touring Motorcycles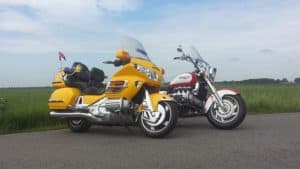 Touring motorcycles are designed for long, pleasant journeys along the country's most scenic roads and landmarks. The vehicles have towering windshields to keep you protected from the elements, as well as massive gas tanks that allow you to travel further between fill-ups.
Touring bikes have an upright but relaxed saddle position to keep you comfortable for the duration of your ride. It is an excellent motorcycle to choose if you intend to ride across the United States.
---
5. Sport Touring Motorcycles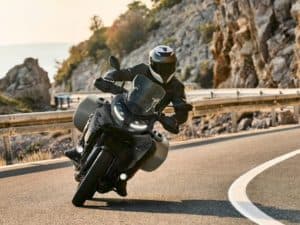 Sport touring motorcycles, as the name suggests, combine the best of both worlds: sport and touring. They're built like sport bikes, but with the long-distance comfort and seat comfort that touring motorcycles are known for. Many cyclists prefer sport touring bikes for daily commuting and weekend road trips.
If you're looking for a motorcycle that's both agile and versatile, look no further than these two-wheeled machines.
---
6. Choppers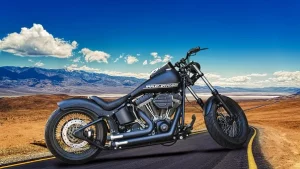 Chopper motorcycles were first developed in the 1950s by significantly altering (chopping) the handlebar steering angles and elongating the forks, giving the bike a stretched-out appearance. Choppers are distinguished by their long front ends with extended forks, extremely tall "ape hanger" or extremely short "drag" handlebars, lengthened or stretched frames, and larger than stock front wheels. Many choppers also have a "sissy bar" that connects the rear fender to the frame and often extends above the rider.
Although choppers with high handlebars and low seats have a distinctive and eye-catching appearance, but they may be difficult to turn. If you're just starting out and looking for your first motorcycle, you might want to look elsewhere. A chopper may be a good option for experienced bikers who prefer highway or freeway trips with minimal turning.
---
Mid-Columbia Insurance – Your Motorcycle Insurance Professionals
After you've purchased a new motorcycle, the next step is to make sure it's properly insured. Check out our motorcycle insurance recommendations to learn everything you need to know about safeguarding your investment.
Article Source: Mid-Columbia Insurance Agency