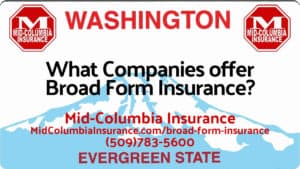 Broadform Insurance in Washington is offered through four companies:
Because BroadForm Insurance is our specialty, we represent all 4 of these companies. Give us a quick call to find out how inexpensive a Broad Form policy can be for you.
Some companies offer the Non-Owned Vehicle type of Drivers License Insurance but it is designed only for people who don't have regular access to a car. We do not offer this kind of policy because it is too restrictive. Non-Owned is the only kind of License Insurance sold by companies like Progressive, The General, Geico, State Farm, etc.
Mid-Columbia Insurance – Your Trusted Insurance Broker
Give our Broadform Specialists a call today at 509-783-5600 or click "Get a Quote" to request a quote on your insurance. At Mid-Columbia Insurance, our goal is to get you the coverage you want at a price you can afford!
Article Source: Mid-Columbia Insurance Agency