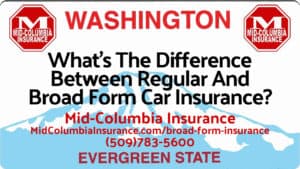 Broad form is simply an endorsement added to a regular auto policy that changes the definitions of a few key terms.
First, the definition of insured is, ironically, changed from a broad list of drivers to a very narrow you and you only.
Second, the definition of what is considered an insured vehicle is broadened from only the cars listed on the policy plus a few exceptions, to almost any private passenger vehicle as long as it is not being used for business.
Liability, Uninsured Motorist, and Personal Injury Protect (PIP) medical work exactly the same on a regular and a broadform policy.
Mid-Columbia Insurance – Your Trusted Insurance Agent
Give our insurance professionals a call today at (509)783-5600 or click "Get a Quote" to request a quote for Broadform insurance. At Mid-Columbia Insurance, our goal is to get you the coverage you want at a price you can afford!
Article Source: Mid-Columbia Insurance Agency